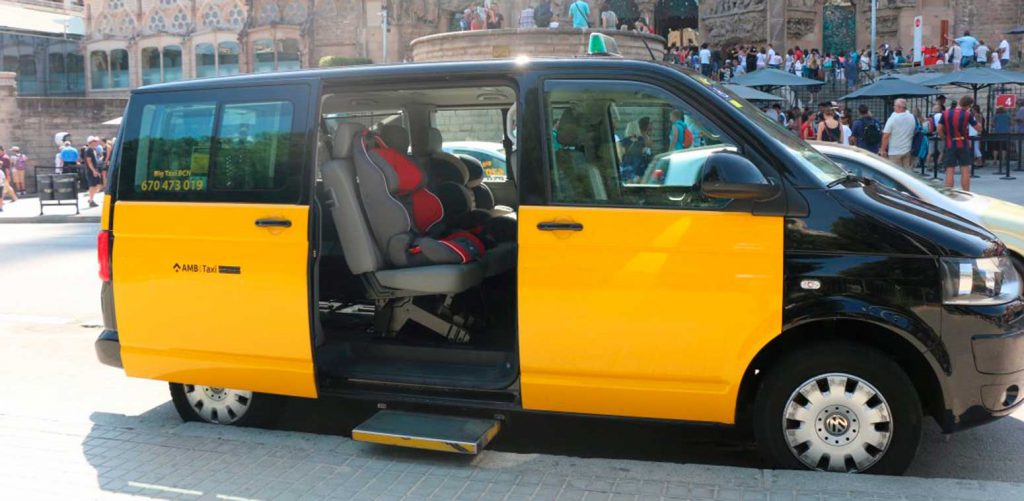 With a single call we can organize the transfer of a group of people of up to 200 seats in a single trip with the demands and requirements that you need.
Requesting a Taxi if you travel in a group or organize an event can be more difficult than taking an individual taxi. At Bigtaxibcn we give you all the services you need with sedan or minivan-type vehicles with ample spaces for people and luggage: Transfer in Taxi 5 seats, Taxi 6 seats, Taxi 7 and 8 seats . A serious, efficient and punctual taxi service that we organize for you completely tailor-made.
Do you need a group taxi in Barcelona? In that case, put all your trust in Big Taxi Barcelona. We are a young and dynamic company, which is not incompatible with having an impeccable trajectory in the transfer of passengers. We have an exceptional human team and a large, quality fleet of vehicles with all the comforts.
Thanks to our experience in this sector, from Big Taxi Barcelona we are in a position to carry out the most demanding services you can imagine. With a single call, we can organize transfers of up to 200 people in a single trip, fulfilling any requirement or requirement that you need. What more could you want?
In addition, we have a wide fleet of taxis of 5, 6 and 7 seats for all kinds of groups of friends or families. You just have to tell us where you want to go and we will take you! Trust a leading company like ours and we are sure that you will not regret it.
The widest range of group taxis in Barcelona
With Big Taxi Barcelona you will have at your fingertips the best, most complete and safest vehicles. A fleet of high-end taxis at your entire disposal capable of covering any need you require. Thus, we can carry out all kinds of transfers for groups, carry out the transfer from the airport and port of Barcelona or also offer you the possibility of carrying out the best City Tour in the city. What do you need?
We also offer you the possibility of having a wide and spacious adapted taxi in Barcelona, ​​especially designed for the elderly or people with reduced mobility. Thanks to the access ramp and the space inside, the transfer will be totally comfortable and without any discomfort.
Now you know. Trust Big Taxi Barcelona for any adapted taxi service or taxi for groups in Barcelona. We are waiting!